SEAM News
Calendar
Picture Galleries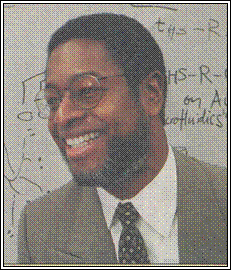 Anthony Guiseppi-Elie named recipient of the 1999 SEAM award.
Presented for "…his pioneering work in taking conducting polymers to bio-applications."
A presenter at the 1997 meeting, Dr. Guiseppi-Elie spoke then on his work on enzyme and antibody–based amperometric and impedimetric biosensors, electroconductive hydrogels for controlled electrorelease of bioactive peptides, and on electronic nose applications of conducting polymers.
Born in twin-island Caribbean nation of Trinidad and Tobago (1954), Dr. Anthony Guiseppi-Elie (http://www.abtechsci.com/guiseppi.html) is currently President and Scientific Director of ABTECH Scientific, Inc., (http://www.abtechsci.com), Professor of Chemical Engineering and Affiliate Professor of Biomedical Engineering at Virginia Commonwealth University (http://www.vcu.edu/egrweb/). At VCU, Professor Guiseppi-Elie also serves as Director of the VCU Center for Bioelectronics, Biosensors and Biochips (http://www.biochips.org). ABTECH is a developer and marketer of chemical and biological sensor devices, instruments, and systems based on biochips. Prof. Guiseppi-Elie has over 16 years experience in biosensor systems, surface science, and polymer-biopolymer thin films. He holds the Sc.D. in Polymer Materials Science and Engineering from MIT (1983), the M.Sc. in Corrosion Science and Engineering from the University of Manchester Institute of Science and Technology (UMIST), and the B.Sc. in Applied, Analytical and Biochemistry from the University of the West Indies (UWI). He completed postdoctoral work at MIT, has studied Business and Technology Management at the Sloan School and at the Johns Hopkins School of Continuing Studies. He has been an Adjunct Professor at Penn State University and has been a Visiting Scientist in the Department of Biomedical Engineering, Johns Hopkins University School of Medicine. Dr. Guiseppi has been a research engineer at W.R. Grace and Company, an Applications Specialist at Molecular Electronics Corporation, and the Director of Research at Ohmicron Corporation before becoming the founder of ABTECH Scientific, Inc.
Dr. Guiseppi-Elie's research interest is in molecular engineering of smart materials for the development and application of materials-based chemical sensors, biosensors, and controlled release devices. This interest embraces fundamental studies of structure-property relationships in polymeric thin films, polymer-biopolymer complexes, biomimetic films and membranes, and organized supramolecular assemblies. Dr. Guiseppi's principal focus is on understanding small molecule, ion, and electron transport in these systems.
Dr. Guiseppi-Elie also has an interest in bioelectronics, in particular, the direct electrical wiring of oxidoreductase enzymes to electrodes using inherently conductive polymers to yield direct biosensors. This work is directed at the development of bioactive smart materials - the integration of molecular biorecognition and electronic transduction in a single material. In support of this work, Dr. Guiseppi becomes involved in the surface chemistry of polymers as it relates to bio-immobilization and biocompatibility, and in the synthesis of polymers at surfaces and interfaces.
Finally, Dr. Guiseppi is also interested in the interactions between synthetic polymers and biopolymers such as proteins and DNA, and in the interactions between synthetic polymers and whole cells and tissues. This work is related to device implantation and the development of whole cell and tissue-based biosensors.
In his work Dr. Guiseppi makes use of such techniques as electrical and electrochemical impedance spectroscopy (EIS), electroanalytical chemistry, various spectroscopies, labeling and tracer studies, thermal analysis techniques, and staining techniques. Dr. Guiseppi-Elie has published over 30 peer-reviewed papers, written 3 book chapters, and holds 6 patents.