SEAM News
Calendar
Picture Galleries
The SEAM -Search for Electro-Active Materials

SEAM Meetings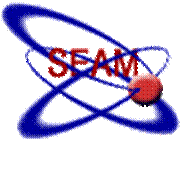 SEAM (Search for Electroactive Materials) is a topical annual meeting organized and held in the tradition of the "Scientific Saturday" meetings of old. Central to SEAM is the topic of electroactive polymeric materials or inherently conductive polymers. The materials, brought to the fore by the pioneering work of 2000 Chemistry Nobel Laureates Alan Heeger, Alan G. MacDiarmid and Hideki Shirakawa, have transformed our view of polymers and have heralded new vistas of scientific inquiry and technology. These materials promise continued intrigue, fascination and creative opportunity. Today these materials are the substance of light emitting diodes, high performance displays, neural device-to-brain interfaces, bioanalytical biosensors, electronic noses, smart membranes, and artificial muscles.
SEAM annual meetings are by invitation only and provide communication forum in the field of electrically conducting polymers. Often the meetings have a specific focus as for instance in 2000 the meeting focused on biotechnical applications and intersections of inherently conductive polymers with the life sciences. This includes topics such as biosensors, controlled release, cell-polymer interaction, molecular recognition, bioimmobilization with ICPs, bio-blends with ICPs, etc.
The annual SEAM meeting occurs on the Saturday following the annual Fall MRS (Materials Research Society) meeting that is held in Boston. The SEAM meeting format is usually a short slate of speakers, each allotted one hour (or whatever time is needed) to present their work and provoke discussion.
SEAM Award 
The SEAM (Search for Electro-Active Materials) award is given annually at the SEAM meeting held at Polytechnic University, Brooklyn. The SEAM award was co-founded by Polymer Research Institute Director and Professor of Chemistry, Dr. Kalle Levon, and Professor of Materials Science at Clemson University, Dr. Richard Gregory.
SEAM Director
Kalle Levon, Professor
Department Head 1995-2001
PRI Director 1997-2003
klevon@poly.edu